It was during 90's when I was looking for a nickname to create an email, I tried all possible combinations with my name but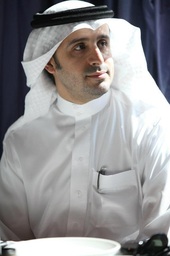 no luck. I started thinking to have a nickname but it was so difficult until I thought of something. During my college study I was usually visiting the corniche almost daily then I asked myself, who usually stay very close to the sea?
My answer became my nickname which is Almeena in arabic but in english it means the sea port and I added the 58 which were my mobile's first two digits. Since that time I am using this nickname as my brand.
About me
(Yousef Algahtani)

When I was at the primary school I saw the first Atari with one of my relatives, we played for couple of hours and then we left. That thing changed my thinking forever and I remember I asked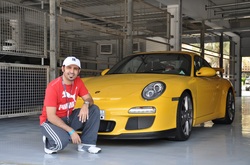 my father everyday to buy this thing for me but he was very smart and he challenged me if you graduate with a score of +90% then I will.I took it seriously and I started studying so hard to won that thing, I won and I was flying to him asking for the prize. He became so happy and promised to buy it soon, I waited for sometimes and suddenly he came with a very big box, keyboard and a small TV. I started opening the things and I became so sad, it was not Atari!. I became angry on him and refused the prize while asking him what is this thing?He said, this is a computer! it is much better than the Atari! and it will help you in the future and it is the future. That was in the 80's my father bought for me a 386 computer costs him full month salary. Rest In Peace best father in the whole world.
I don't know how to even start that computer then he took me to a near computer workshop introduced me to one of the technicians to teach me how to use the computer, it was DOS and they installed Win 3.x for me waaaaw. I started visiting the workshop everyday by walk which was around 2200m away crossing highways and blocks when I was 12 years old to learn and know how to work with my computer.
During a year I mastered the computer while all of my friends and colleagues don't know any think about  computers even I learned Basic language that I started programming and dreaming to become a professional programmer. I finished the high school with 90% and my father encouraged me to go anywhere to study. I read about KFUPM (King Fahd University of Petroleum and Minerals) at the far east of Saudi Arabia (1500km from my hometown), he supported me and gave me money to travel. I joined that University and after a year I chose Computer Engineering as my major.
I graduated in 2003 and started working in the IT field for sometime then joined the Telecom working in Mobile networks.
---
My Passion about Cars

Since I was a child, my father was taking me with him everywhere even to his work during the summer. I was so happy during the journey to his office watching cars and watching him changing gears and doing maneuvers, to be honest with myself, he was a professional driver with todays standards.He was changing cars frequently and that made me understand what are the differences between cars and I remember when we visited any of our relatives the first thing is to check their cars. Our house was meters from the highway and I was sitting at the backya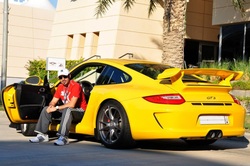 rd almost every afternoon watching cars to check if new models are coming.My father from time to time took me to car showrooms and whenever that happen, that day was like going to Disney these days! checking every single thing in all cars and taking all possible car manuals and brochures to read and see pictures at home. I was using paint in my computer to draw all cars and trying to change colors and doing Bump My Ride by today's meanings.When the time came asking my father to buy a car, he challenged me again if graduated from the high school with +90% then he will buy the car I chose. I won and I asked him and he said ok but just go to your collage and within a semester he bought different car for me and I became so angry why he did that, he said I know you are crazy about cars and I dont want the car to take you away from your goal. He was looking to the future but I didn't agree and I used that car (1992 Toyota Corolla 1.6) for almost three years doing many modifications to make it better.I succeeded to convert it to a sport looking car inside and outside but later I insisted to buy a different car since I am travelling over 1500 km by car during vacations and holidays and riding a small car is not good by all means. He agreed and I chose a 1993 Mercury Grand Marquis and he bought it for me. It was one of my best times in my life when I took the key and started the car.During the years I bought many cars but I have a dream car in my mind, what is it? I dont know yet!Doing research, readings, asking, looking around and finally I found it, Porsche! but what kind of 911s? the purest GT3 2010. I bought it brand new custom order and delivered 9 months later to me. It is the BEST CAR in The WHOLE WORLD!!!During 2013 there was an online competition from Porsche Germany during the 50 years of Porsche 911, I won 2nd place worldwide as the 2nd best picture with my car (picture of this section). The picture taken by my best brother when we were at Bahrain International Circuit enjoying an open track day.
I have done many track days and I have driven many sport and super sport cars and I know how every car feel and is best for. I started 2014 doing serious professional sport car reviews and doing all the hard work alone with some help and support from brother Ibraheem and my lovely wife.
I hope you enjoyed all my stories and as well to enjoy all my reviews,
Thanks,
Yousef